I've probably mentioned in my previous posts that there are 3 different areas in Wellington. I thought I'd give you a glimpse of the town. As in every post, these pictures are thumbnails and you can see bigger versions by clicking the pics.
Here you can see the different areas. The city center is called Wellington, this is the oldest part of the city and the other areas have started developing later. The Wellington area also has the most habitants at the moment. Allerdale is the rural area and the wealthiest wellingtonians live in the Exmoor area.
Wellington
On the far left are two townhouses, habited by the Fieldings and the Coopers (a new family which I'll start playing on round 4). Behind those houses is the Violet Hill Apartments building where the Greenes live. The orange building is Café Casablanca.
In the middle: Police Station, City Hall and Hospital which are built mostly just for hood decoration purposes. The Central Park (in the lower middle) is divided into 3 separate lots. Behind the City Hall is Bluebell Hill Apartments where Stella Harris and Deacon Burrows have just moved. On the right side are the community lots Ka-Ching Shopping Centre, Joie Délicieuse (restaurant) and Twilight Zone (nightclub). The white building in the corner is the Breezy Village Apartments.
Exmoor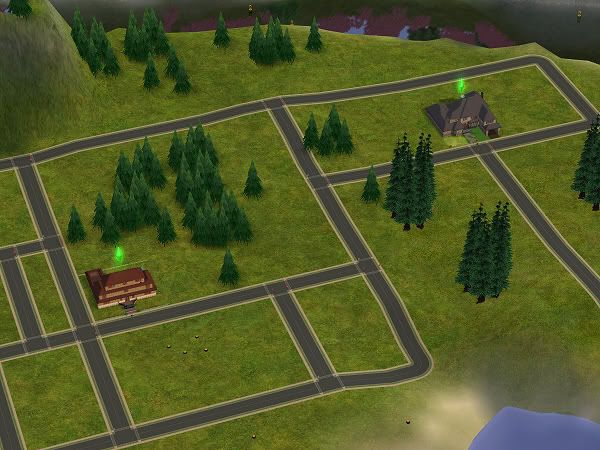 On the left is the Whitfield's home and on the right the Harper Mansion. After taking this pic I placed a house next to the Whitfield's house. Hopefully someone will be able to afford it someday.
Allerdale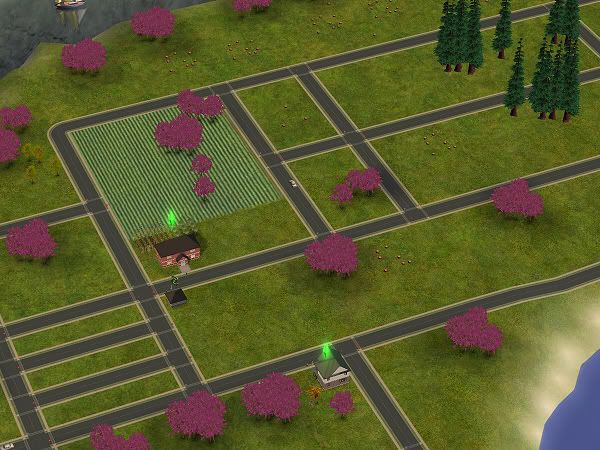 The Robinson Farm is on the upper left. The opposite lot is the Farmer's Market which is owned by Olivia Robinson. The green-roofed house is the Marlowe family's home.