by Brooke Greene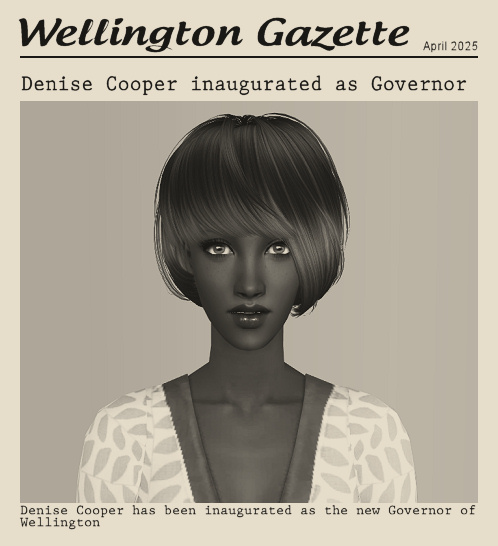 Denise Cooper
took over the reigns as the Governor of Wellington from Deacon Burrows who served two full terms. It was an expected turn as Mrs Cooper has worked in the town administration for years now and is also a member of the City Council. Mr Burrows on the other hand announced his retirement from the town politics.
As a mother of four children Mrs Cooper values education and has promised to continue the overhaul of Brixton University as well as oversee the construction of new high school. Also on her agenda for the four-year term is building a library and enhancing the public transportation system between Wellington and Exmoor.
Notes:
I'm back! Sorry for staying away for so long and not updating the blog for months. It was a sum of many things but nothing bad.
I had planned to do a proper election where the readers of this blog (if there are any left after the 4 month hiatus) could vote but I couldn't think of a good opponent for Denise.
Technically Deacon would have become the Commerce Representative knocking Janie Greene out of the City Council as he's on the highest position of the Business career. However I figured that he would probably just rather retire from the city council completely and focus on his businesses and children. I've updated the City Council page.